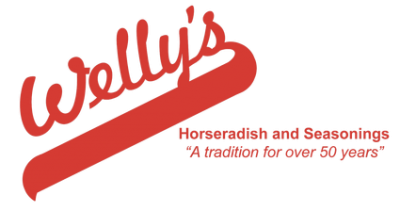 Horseradish isn't just a condiment! It adds flavor to recipes unlike any other herb. Once heated, the "heat" is eliminated, but the unique flavor remains.
The following are some of our family's favorite recipes using our Welly's products. If you have a favorite recipe using horseradish, we'd love to share it with other horseradish lovers. Just email it to us and we'll post it on our site.
ENJOY!
---
1 lb. ground chuck
1 tsp Welly's Seasoned Salt
3 Tbls catsup
1 tsp Worcestershire sauce
1 Tbls minced onion 1 Tbls Welly's Horseradish
1 tsp mustard
1/4 cup dry bread crumbs
Combine all ingredients and shape into 4 patties. Grill, fry, or broil as usual.
Horseradish Pork Marinade
2/3 C honey
1/2 C prepared mustard
1/4 C pineapple juice
1Tbls Welly's Pure horseradish
1/2 t chilli powder 1 tsp Welly's Seasoned Salt
Blend all ingredients together and divided. Pour half over pork and marinade in refridgerator for 2-3 hours. Remove pork from marinade and broil or grill over medium heat, basting with reserved mariande. Combine ingredients, double if required. Divide. Use part to marinade pork. Reserve portion to baste pork while cooking.
Cranberry Horseradish Relish
2 cups fresh cranberries
1 small onion
1/2 cup sugar
3/4 cup sour cream (not the low fat kind)
2 Tablespoons Welly's Pure Horseradish
Grind together the fresh cranberries and the onion. Add the sugar, sour cream and the Welly's Pure Horseradish. Refrigerate. Serve with hot or cold turkey, ham or pork. Great on leftover turkey sandwiches
2 doz. large fresh mushrooms
4 Tbls. of butter
1 clove of minced garlic
2 Tbls. minced onion
1/2 pound cooked crab meat 2 eggs, beaten
2 Tbls. Welly's Beefeaters Sauce
3 Tbls. seasoned dried bread crumbs
parmesan cheese to sprinkle on top
Well's Seasoned Salt to taste
Remove stems from cleaned mushrooms; chop stems and sauté in butter with garlic and onion. Brush mushrooms with melted butter. Mix together crab meat, eggs, Beefeaters Sauce, bread crumbs, lemon juice, Seasoned Salt; add to onion mixture and cook for 5 minutes. Fill mushrooms with mixture. Sprinkle with parmesan cheese. Bake in buttered shallow glass casserole for 15 minutes in a 400 degree oven. Serve warm with additional Beefeaters Sauce on the side.
Salmon Dip with Horseradish
13 oz of pink salmon, drained & cleaned
8 oz package of cream cheese, softened
1/2 cup mayonnaise
1/4 cup sour cream
2 Tbls Welly's Pure Horseradish 1 Tbls pickle relish, drained
1 Tbls chives or green onion tops, chopped
1 tsp Welly's Seasoned Salt
Place all ingredients into a food processor or blender. Process until the mixture is smooth. Refrigerate until serving. This can also be made with tuna, crab meat or chicken
1/3 cup red wine vinegar
1/4 cup sugar
1/4 cup soy sauce
1-2 Tbls Welly's Pure Horseradish
1/2 cup olive oil Hot pepper sauce to taste
Blend together the vinegar, sugar, soy sauce and horseradish in a food processor. Set food processor to medium speed and slowly add the olive oil till well blended. Add hot sauce to taste. Serve over mixed greens salad or steamed vegetables. This is hot!